February 2013 "Best of the Best" Wineries
With our first Napa Valley visit of the year now in the books, I wanted to share a quick recap on just some of the incredible wine, food and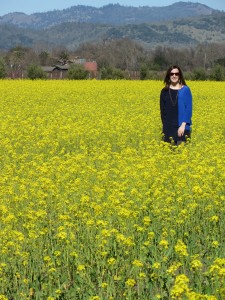 experiences. We were thrilled to benefit from sunny, 70-degree temperatures, which are pretty unusual for wine country during this time of year. The stunning, mustard yellow vineyards were even more beautiful than I remember.
We stayed at the lovely Solage Calistoga resort, which allowed for much-needed relaxation. I was even able to keep up with my Spinning classes at their indoor/outdoor fitness facility and will likely never get enough of their one-of-a-kind pool area or Solbar restaurant.
During the daytime, we filled our itinerary with a great mix of new and favorite wineries.
By the Numbers
Days in Napa Valley: 6
Miles driven in the Valley: 309
Wineries visited: 22
Wines tried during tastings: 125 (not including wine ordered at dinner)
Oysters ordered: 48
Orders of bread pudding for dessert: 3
Pounds gained: TBD
Best of the Best: Wineries
We had so many great tastings, but five wineries jumped out as the "Best of the Best" this visit for their overall experience and top-to-bottom offering of solid, high-quality wine. For those considering a trip to Napa Valley, I would certainly recommend these stops:
More "Best of the Best" to come. Up next: wines and restaurants.