This past week, I had the pleasure of sitting down with George Miliotes, Master Sommelier and Director of Beverage for Seasons 52 – Darden's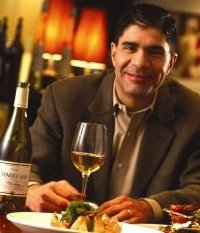 fresh grill restaurant concept – at the new downtown Chicago location. As a frequent business traveler, I was first introduced to Seasons 52 in Orlando, Fla. and was immediately intrigued by the length of their by-the-glass list. A scan of the rest revealed many of my personal favorites. I was thrilled to learn that a Seasons 52 would be opening just a short walk from my office, right off of the Magnificent Mile, and was recently invited to preview the space before it opened to the public on Oct. 17.
Over a glass or two of wine, we talked about Seasons 52's extensive list, his list-building "strategy" and his personal wine preferences. Read on for a summary of our conversation.
Q: We're starting our night with a glass of Mer Soleil Reserve Chardonnay – what was behind your decision to pick this wine tonight?
A: I have great respect for the variety of high-quality wines the Wagner family (behind Caymus, Belle Glos, Mer Soleil and Conundrum) creates. They're confident about doing their own thing…while many Napa winemakers opt for Carneros grapes, they knew they could get a better product with grapes from the Santa Lucia Highlands.
Q: One of the first things I noticed about Seasons 52 was the extensive wine list. Tell me about it.
A: We have 100 wines on the menu, with 64 by the glass. Some will be familiar to our guests, but there are also meant to be options that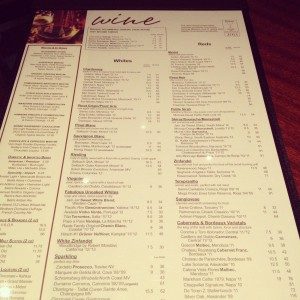 encourage discovery. The great thing about offering so many wines is that guests can try an ounce taste of whatever they like until they settle on something they're really pleased with. We offer wines by the glass ranging from $7 to $20, so there's a great diversity in varietals, regions and also price.
Q: How do you even begin to decide what to put on the wine list?
A: I scrutinize the list with a long and critical eye. I'm always looking for producers who deliver consistent, high-quality wine. The most recent vintage may have earned a high score, but I'm going to go back and taste several previous vintages to make sure they also meet expectations.  The key is "balance"- not just in the amount of fruit and earth and oak but also in the price and quality.
Q: What guest "profile" do you design your wine list around?
A: Though this sounds broad, the wine list is built for anyone with an "interest" in wine. That varies in and of itself. There are those who are interested but may not know anything about wine. Then, there are interested enthusiasts who will be looking for particular names or styles. We really try to build a list that appeals to everyone.
Q: Being a restaurant that is so focused on fresh, seasonal and local ingredients, how do you determine which regions to feature on the wine list?
A: About half of our wines are from the U.S. With every state now producing wine, I try to get out and taste in each area we have a restaurant. I have begun to taste around Illinois and Indiana.
In talking to many U.S. producers, I know that they always keep an eye on what's doing well in Europe – they still get inspiration from the six European classics and what's happening over there. So we've also got to feature those. Then, I like to include a selection of those "discovery" wines, which I've been impressed by in lesser-known regions. You can see some of these in my "Before They're Famous" section of the list.
George explained that he travels the world helping producers mix and blend wines that could ultimately be served in Seasons 52. He has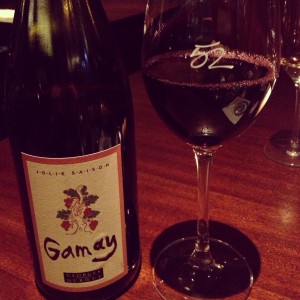 particularly enjoyed this experience in South Africa. The Jolie Saison French Gamay is close to his heart right now. Approximately 10-12 of Season's 52 wines are categorized as "Buyer's Own," from regions like Spain, California, South Africa, Germany, Macedonia, and Slovenia. However, they are all available globally through other retailers outside of the restaurant. What's great about wine from these areas is that he can continue to get that high quality and value he's looking for, but at a fraction of the price as the wine in more established locales. Yet, it drinks just as well as the others.
One thing's for sure – if he does fall in love with a wine while on the road, he always ships some back home to try again. (There's something about wine tasting quite heavenly on premises, isn't there?) He believes that like humans, wine is a living, breathing thing and can experience its own jet lag. To ensure consistency, he has to taste it again and again.
Q: Tell me a little more about the Jolie Saison Gamay, I noticed it's also on the top of your "Before They're Famous" list.
A:  People often ask me why we don't feature Beaujolais on the wine list. That's such a tricky thing to maintain, with particularities about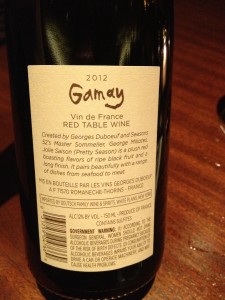 vintages and when it should be consumed. I had the opportunity to travel to France and blend wine with the renowned Beaujolais maker Georges Duboeuf, along with his winemaker, cellar master and son. We started with 90 different wines for the blend, tasting 50 the first day and 40 the next. From 8:00 a.m. – 11:00 p.m. we were just tasting wine. After the first round, we narrowed to 8 and then 7 options. From there, we settled on three before finally arriving at the Gamay.
We then took a sip of the wine – it was absolutely luscious. We observed notes of raspberry, cocoa and soy with some fine tannins on the finish. It's really approachable for anyone looking to start their meal with a light-bodied red wine.
Q: What's your approach to promoting food and wine pairings?
A: I've been working alongside Executive Chef Clifford Pleau for 20 years; we're always talking about the menu and what would pair well together. Guests can expect great pairing suggestions to come from our servers. We go through extensive training, which our servers are really intrigued by, so they know how to best answer our guests' questions. For example, our popular Spicy Chipotle Shrimp flatbread pairs really well with a Riesling. And, there's really no better pairing than our scallops and sauvignon blanc. We're also serving quail right now, which is complemented by the Gamay.
He told me how he used to enjoy taking a small group of servers on annual trips to Napa to help strengthen their interest and appreciation in wine. Some have even gone on to pursue careers in wine.  
Q: Do you have any tips for wineries looking to make their way onto your list?
A: I am motivated by wineries who are really excited by our wine program and growth. But, it truly comes down to relationships, trust and communication.
I'm always looking for new and fun things to include, but if I am removing one of my current selections, there better be a very compelling reason to do so. I'm open to tasting first releases, but again, I'm looking for that consistent quality and value vintage after vintage.
He recalled conversations he's had with producers who have admitted they can't keep up with the quantity demands of Seasons 52 during a low-yield year. With 32 restaurants to fill, some have said they can't put all their eggs in his basket without taking away from seven or eight other customers.  Though, George never harbors negative feelings – he understands the fluidity of this business. He also reiterated the importance of balance in these relationships from quality to the price they quote him. A willingness to work together is also key. Some winemakers in the up-and-coming regions create wine for local taste preferences, but that might not appeal to U.S. drinkers. This is why George is open to things like Buyer's Own and blending with wineries around the world.  
Q: What do you drink during your down time?
A: I drink a lot of Riesling, like Selbach-Oster Kabinet.  It's good…not too sweet, and Riesling has a lower percentage of alcohol. I can enjoy a glass at dinner and still be able to do things around the house. The Markham 1879 Chardonnay and Merlot are longtime favorites, too.
Q: What's your cellar like at home?
A: My cellar [at home in Orlando] holds up to 2,000 bottles, but it's about half full. My cellar is more for evaluating than collecting. I'm exploring and tasting all of it.
You can follow George Miliotes on Twitter, @TheWineExpert.
Seasons 52 Chicago is located at 55 E. Grand Street. Or you can visit them at one of their 31 other locations across the U.S.