This past week, I had the pleasure of sitting down with George Miliotes, Master Sommelier and Director of Beverage for Seasons 52 – Darden's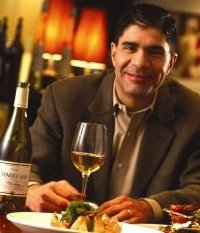 fresh grill restaurant concept – at the new downtown Chicago location. As a frequent business traveler, I was first introduced to Seasons 52 in Orlando, Fla. and was immediately intrigued by the length of their by-the-glass list. A scan of the rest revealed many of my personal favorites. I was thrilled to learn that a Seasons 52 would be opening just a short walk from my office, right off of the Magnificent Mile, and was recently invited to preview the space before it opened to the public on Oct. 17.
Over a glass or two of wine, we talked about Seasons 52's extensive list, his list-building "strategy" and his personal wine preferences. Read on for a summary of our conversation.
Q: We're starting our night with a glass of Mer Soleil Reserve Chardonnay – what was behind your decision to pick this wine tonight?
A: I have great respect for the variety of high-quality wines the Wagner family (behind Caymus, Belle Glos, Mer Soleil and Conundrum) creates. They're confident about doing their own thing…while many Napa winemakers opt for Carneros grapes, they knew they could get a better product with grapes from the Santa Lucia Highlands. Read more →