I had the opportunity to participate in the largest charity wine tasting I've ever attended on Sunday. The 12th annual d'Vine Affair, hosted by Catholic Charities of Chicago, helped raise funds for the organization's Self-Sufficiency Programs. More than 250 wines from nearly 50 vintners were featured on two floors of the Union League Club. Two weeks out from our next Napa trip, I couldn't help but make a beeline for the domestic wine tables to tide me over until our visit.
One of my first stops was to Elizabeth Spencer, where president and proprietor, Elizabeth Pressler (pictured above), was pouring. Her husband,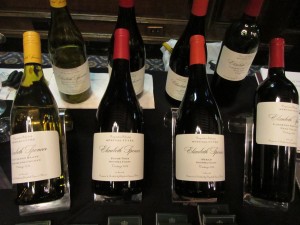 Spencer, is the other half of their winery's namesake. We tasted our way through their 2011 Sauvignon Blanc, 2009 Sonoma Coast Pinot Noir, 2008 Sonoma Coast Syrah and 2009 Napa Cabernet Sauvignon. (For those who haven't been, Elizabeth Spencer is a great place to stop in Rutherford. Aside from offering terrific wines, their outdoor tasting area is really beautiful.) I am also spoiled to be able to find Elizabeth Spencer wines at my local shop in Andersonville.
Breggo, Cliff Lede Vineyards, Spring Mountain, Steltzner and Keenan were just some of the other Napa wineries represented.
New Wines at The d'Vine Affair
After experiencing the wines we know, we were excited to try some of these new (to me) offerings:
Detert Family Vineyards – Though Sunday was the first I'd learned of Detert, it turns out I'm quite familiar with the work of their winemaker, Tom Garrett, who also makes wine for Revana Family Vineyards. Tom's family has been growing Cabernet Sauvignon and Cabernet Franc since 1953 (just behind the To Kalon vineyard in Oakville). We sampled the 2007 Oakville Cabernet Franc and loved the complexity of this wine. This vintage is comprised of 98% Cab Franc and 2% of their Cab Sauvignon and production is around 334 cases.
Lail Vineyards – At this table, we were presented with the refreshing Blueprint 2011 Sauvignon Blanc and Blueprint 2010 Cabernet Sauvignon. Both are priced around $40 – while that's along the higher-end for a Sauvignon Blanc it certainly met, if not exceeded, the benchmark set by its peers at the same price point. Read more →