Inspiration and Tips for a Memorable Event
A colleague and fellow Napa wine enthusiast kindly invited us to participate in his annual home tasting party over the weekend. I knew we'd be in for a treat, but this event rivaled something you'd read about in Martha Stewart Living. As we entered, guests were asked to pick up one numbered wine glass that had been adorned with a homemade cork charm. (To create these, the hostess cut corks into thin, circular slices with a sharp knife, inserted a small jewelry hook into the top and tied them to each stem. I found a similar DIY charm tutorial at Naturally Savvy.) Next, we were provided with scoring sheets that asked raters to evaluate samples on their appearance, aroma, body, taste and finish at up to five points per category for a total of 25 points each. Then, we were free to begin tasting.
The host selected six Napa wines and secretly labeled them A-C (red) and D-F (white). I started with the white selections and made tasting notes along the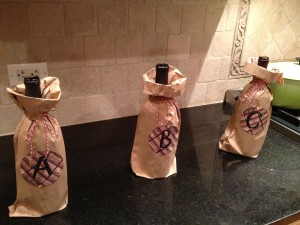 way. I also tried to guess the varietals. Interestingly, one of the options surfaced as the crowd favorite among the 30+ attendees, which I'll reveal shortly. We followed a similar pattern with the reds, though preferences seemed to vary greatly on these choices. As we tasted, the host couple awarded raffle prizes by pulling numbered corks from a vase that corresponded with each glass charm. My lucky husband was the proud recipient of a Duckhorn 2005 Howell Mountain Red Wine, which we'll have to taste and blog about later. We also dined on decadent hors d'oeuvres like goat cheese and fig crostinis and antipasti.
And now the big reveal. Following are the wines we tasted, along with my thoughts on each. Note that while I usually rate wines on a 5-point scale, these scores reflect the format of our tasting. We appreciated hearing the host's personal stories about each winery and bottle as he unveiled them.
Wine Reviews
Reds:
A: Charles Krug 2008 Merlot – my favorite red, which I rated 23/25. We were sure this had to be a Cabernet, which makes it one of those true "Cab lovers Merlots." It was so rich and velvety with bold fruit, cocoa and floral notes. At the end of the night, I kept going back to this wine.
B: Crocker & Starr 2008 Malbec – I had guessed this was a Merlot and rated it 18/25. (Was I wrong!) I just wasn't able to get a strong sense of the aroma or flavors on this one. However, this is a new-to-me winery and I do look forward to learning more.
C: Stag's Leap Wine Cellars 2006 ARTEMIS Cabernet ­­– I didn't feel confident enough to name a varietal on this guess and gave it a 15/25. The savoury aromas weren't as inviting as some of the other wines and the finish didn't seem to linger as long. Interestingly, I tasted 2009 Artemis for the first time at the winery in September and recall liking it a lot.
Whites:
D: Frank Family Vineyards 2010 Chardonnay – the crowd-pleaser and my favorite wine of the evening, rated a 24/25. I also guessed the varietal accurately, though that's a bit easier to do with the whites. Nice notes of oak and pear and very well-balanced.
E: (Cliff Lede) Breggo 2010 Anderson Valley Pinot Gris – this wine threw us off a bit, with many guessing it might be a Riesling. It was a refreshing pick and offered hints of honey. I rated this one 21/25. We learned about Breggo back in July when tasting it for the first time at Cliff Lede.
G: Boeschen 2011 Sauvignon Blanc – another new-to-me winery, I was intrigued by its origins, as well as some of their other offerings (Cabs). We'll have to add this to our list for next time! This particular wine got a 20/25 and had tropical fruit flavors common for this varietal. I did guess Sauvignon Blanc.
Sometimes it can be difficult to taste and score apples and oranges – I think it would be fun to replicate this format with all reds and whites of a similar varietal, which might help keep the playing field equal. In the past, we've conducted blind tasting parties with three vastly different-priced wines by the same maker, as well as the single varietal approach, though never this well-organized!
With these tips on how to host a wine tasting party at home your next party is sure to leave guests talking! What are some of your favorite home tasting party tips and tools?